Category
: Secretary/Receptionist
Application deadline has been passed!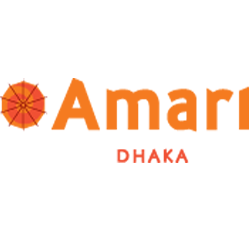 Duty Manager / Front Office Supervisor
Amari Dhaka
Job Summary
Experience
: At least 5 year(s)
Salary Range
: Negotiable
Job Context
Responsible to efficiently run and supervise of the Front Office Department as to maintain a high degree of operational efficiency of the Front Office Department.
To keep all the tools on hand updated and enabling a smooth operation. Handling all guest grievances and complaints as per company standard at all times
Job Description / Responsibility
MANAGING
To assist Front Office Manager organizing, directing and coordinating the activities of the front office to ensure the smooth operation and proper administration of the department.
To supervise and correct the daily routine of the Front Office department and improve speedy and accuracy by: watching, daily briefing, on the job training and buddy-buddy system.
To take full responsibility in the absence of Front Office manager for the actions of all personal in the front office as Reception, Reservation, Telephone Operator, Guest Relations, Business Center and Concierge.
To be thoroughly conversant with the property management system's operation and to act as system shift supervisor in the absent of the EFP manager or Front Office Manager.
To represent the management in handling all guest grievances and complaints concerning services in all areas of operation, record them accordingly in the log book and forward the log book daily to management.
To assist Front Office Manager in issuing monthly reports and statistics related to the Front Office Department.
To assume other duties assigned by management.
To ensure that the staff handles the check-in and check-out with the best service according to established procedures.
Maintain and ensure good functioning of Front Office equipment at all time. Is able to trouble shoot smaller problems!
Oversees the correct handling of all guest related matters and ensure a high return of business through constantly improving service.
To make sure that all staff are knowledgeable about rates and package offered at all times.
PLANNING
To encourage maximum revenues and occupancies through training and direct control and all times.
To provide staff and superior with accurate information at all times at the best possible speed.
To maintain good working relationship within the own department and with other departments of the hotel.
To make daily rounds through all operating department to increase visibility to guests and employees.
Promotes the overall knowledge about the company and the sister hotels in general and about the hotel services.
ACCOUNTING
Check daily the credit balance of all in-house guests in order to avoid any "skipper".
To review and understand revenue and occupancy forecast.
To ensure that the department budget is strictly adhered to and that all costs are strictly controlled.
COORDINATING
To ensure that the lobby and hotel entrance are kept clean at all times and to ensure that the main entrance is free of obstruction and traffic congestions.
To ensure that all rooms for VIP are inspected and that all amenities are in order.
To attend meetings and training whenever requested by management.
To ensure excellent relations with group tour leaders.
To have complete understanding of and adhere to the hotel's policies and procedures.
Insist on a daily basis on proper speed, language, telephone etiquette of all staff.
STAFFING
To ensure friendly and courteous behavior of the front office staff at all times as well as to ensure compliance with each and every guest's request (whenever possible).
To ensure that staff do understand and adhere to all hotel emergency policies and procedures and to direct security officers & personnel whenever circumstances demand such action.
TRAINING
To ensure proper training of the day to day job for fast and efficient handling of the check-in and check-out in case of heavy workload.
To be responsible for training of new Front Office staff, update trainee program
Promotes, trains and supervises the overall knowledge about the company, the sister hotels in general, about the hotel services and organigram, who is who in Amari.
MISCELLANEOUS
To ensure that the Front Office area as well as the equipment is clean and neat at all times.
To be aware about all the matters noticed in the log book and the follow-ups.
Set-up and trains rank+file staff to ensure highest possible standard of service at all times. Observe each employee for adherence to jobs standards, personal appearance and efficiency.
Prepare monthly working schedule for the Front Office together with each department and ensure that enough staff is on duty during peak hours. To take in consideration the occupancy, any training classes that staff has to attend and any special events.
To check and ensure that staff reports on duty punctually at all times. Appearance and uniform are neat and clean.
Ensure that company standard and procedure are maintained and updated at all times.
Educational Requirements
Bachelor/ Master's Degree/ Diploma in Tourism and Hospitality Management or other related field.
Experience Requirements
At least 5 year(s)
Job Requirements
Minimum 5 year (s) experience in Hotels only.
Previous working experience with International Hotels will be given priority.
Very good commands of both spoken and written (English and Bengali)
Good understanding of the hotel operation
Flexible with working hours and must be a team player
Customer service skills and problem solving abilities
Initiative, hardworking, ability work under pressure, honest with good management
Knowledge about MS Office, Internet, Fax and Copy Machine.
Gender:
Both
Age:
Any
Other Benefits
Attractive package will depend on the basis of qualification and experience.
Application deadline has been passed!
Company Information
Amari Dhaka, 47, Road No 41, Gulshan-2, Dhaka City, Dhaka Division, Banglades
Amari is an international brand of Onyx Hospitality Group which is Thailand based and in South Asia they have launched their brand Amari for the first time. It is a five star hotel name Amari Dhaka. Amari Dhaka has 134 guest rooms and suites, three restaurants and bars, including a ?destination? rooftop facility plus a function hall suitable for weddings and meeting rooms.
http://www.amari.com/dhaka
Latest jobs of this Company
Other jobs of this Category