Category
: NGO/Development
Application deadline has been passed!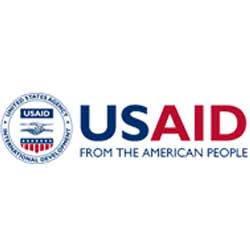 Project Management Specialist (Market System Development)
USAID Bangladesh
Job Summary
Experience
: At least 5 year(s)
Salary Range
: 182,491 - 320,954
(FSN-10, 40 hours equivalent (TK. 2,189,897.00 - TK. 3,851,449.00 per annum). Final compensation will be negotiated within the listed market value based on the successful candidate`s salary history, work experience and educational background. Salaries over and above the top of the pay range will not be entertained or negotiated. Depending on qualifications and experience, Incumbent may be hired at a trainee grade lower than the position grade.)
Job Context
The Project Management Specialist for the USAID/Bangladesh Feed the Future team serves as manager for the area of Agriculture Market Systems; including all related fields such as aquaculture, horticulture, animal and livestock, non-food agriculture products, and related farm disciplines. This position is located in the USAID/Bangladesh Office of Economic Growth (EG) and reports to the Feed the Future Market System group leader. The incumbent leads and/or participates in the high level policy review of the market systems using their expertise and analysis to assist with the design and management of activities related to improving food security through innovative market system approaches that supports the Mission`s overall strategic goals of reducing poverty and decreasing malnutrition and stunting. To perform duties the incumbent engages in the policy dialogue with relevant stakeholders across public, private, and development sectors. This includes discussions and interactions with senior policy makers within Government of Bangladesh, other Donor`s and NGO`s.
Job Description / Responsibility
STATEMENT OF DUTIES TO BE PERFORMED
Project research, development, management, and monitoring 70%
The incumbent plays a high level role in providing technical support into the design, implementation, and evaluation of activities within USAID's Feed the Future (FTF) programming in Bangladesh.
S/he serves as the lead and/or member of teams for the preparation of studies, concepts, project appraisals, and activity design documents related to poverty reduction in the Feed the Future portfolio within Bangladesh. They maintain regular contact with GoB agencies, donor partners, NGOs, and the private sector actors on affairs related to the private sector engagement in agriculture through a market system approach. S/he supports close collaboration and coordination with senior officials and representatives to ensure that USAID assistance GoB policies, strategies or action plans, including those supported by other development partners, and actively approach private sector market actors to facilitate development interventions that are sustainable and market driven.
S/he serves as an Agreement Officer Representative/Contracting Officer Representative (AOR/COR) for Mission-led development assistance activities that strengthen market systems, agriculture and agronomic supply chains and income generating activities related to farming and farm related activities. S/he is responsible for technically managing and administratively coordinating projects/activities that range in size of $500,000 to $25 million. The incumbent will also be responsible for coordinating, and at times leading, administrative and budgetary processes that support the overall effectiveness of these projects/activities, such as planning field visits by high-level Bangladesh and United States government officials. In addition, as a senior FSN technical expert s/he will coordinate these field visits with other Donors and seek the participation of private sector entities to support such visits.
The incumbent prepares project implementation materials in compliance with current USAID policy, regulations and guidance. The incumbent may be selected as a member of a technical review team for awards, contracts and human resources. The incumbent supports project monitoring by supporting the Bureau of Food Security and Feed the Future's Development Objective Performance Monitoring Plan (PMP) as well as annual reporting via the Program Performance Report (PPR) or other agency policy review requests. As AOR/COR (or Alternate AOR/COR), s/he ensures timely review of quarterly and annual reports as well as the delivery of key milestones (e.g., conference, policy) as well as social media/outreach of the activities s/he manages. The incumbent takes the leading role and providing support in the preparation of scopes of work for various technical assistance tasks that supports the Economic Growth Office and FTF program design, management and/or evaluations.
The incumbent promotes organizational learning by leading in the continual review of managed activities, working collaboratively with implementing partners to insure successes and innovations are properly documented and promoted. As a senior FSN, s/he assists junior and other staff in their capturing Monitoring, Evaluation, and Learning (MEL) data to insure the FTF team operates according to USAID MEL requirements.
Technical advice, analysis, and review 30%
The incumbent plays a key role in providing technical advice, analysis and review of various relevant documents that support USG to design, pilot, adopt, implement, and scale various development interventions with a market system development approach. Using her/his level of expertise and knowledge of market systems, s/he will play a prominent role in providing long term analysis, trending and development of evolving sustainable approaches to systems that will need to change as the country experiences constraints and challenges and adapt with the situation to move into middle income status.
The incumbent guides Mission staff on adopting market system approach to implement sustainable development interventions. The incumbent provides technical input to USAID implementing partners on enhancing knowledge, capacity and awareness of market analysis and mapping, potential linkages between economic development and value chain analysis. In addition, as senior technical specialist, s/he will provide mentoring support to FSN and other staff in their field of expertise.
The incumbent serves, when required, as a USAID FTF Team representative at various governmental and non-governmental meetings and workshops in the relevant sectors. The incumbent may be required to represent the Mission and FTF activities at out of country workshops.
Supervisory Relationship
After initial orientation, the incumbent works with a great deal of independence and carries out assignments on his/her own initiatives. The incumbent reports to the Market Systems Group Leader.
Supervisory Controls
The incumbent will not have any direct supervision role of other USAID staff. However, they will be expected to mentor junior officers and staff in their area of expertise.
PHYSICAL DEMANDS: The work requested is generally sedentary and poses few physical demands
Educational Requirements
Education: Minimum Bachelor's degree from a recognized university in business administration, economics, international trade, finance, agriculture, engineering, or related field.
Experience Requirements
At least 5 year(s)
Job Requirements
Prior Work Experience: Minimum 5 years of increasingly responsible relevant work experience, at least 3 years of which should be at a senior level responsible project or activity management position in integrating market system development approaches in the value chain and in the market development, entrepreneurship development and private sector engagement, and access to finance; with national and international development organizations. Experience in strategic planning, designing, and managing projects, as well as institutional capacity development and research is desirable.
Job Knowledge: Advanced/expert knowledge of the Bangladeshi institutions working in the relevant sector is required. The incumbent must have a general knowledge on the development issues of Bangladesh. The incumbent must have thorough knowledge of development issues in the agriculture and food security areas and role of private sector in addressing challenges to the development. Knowledge of the work of donor agencies in Bangladesh in the sector is needed. Knowledge of key policy areas and constraints is needed. Knowledge of relevant Ministry partners and various roles and responsibilities of each is very important. Knowledge of the work of the relevant host country government institutions and development agencies in Bangladesh in the sector is needed. Past experience working with senior level policy makers and implementing partners is desirable
Skills and Abilities: The incumbent should have strong demonstrated project management skills and budget management ability. In addition, they should have the ability to analyze program needs in the sector and formulate how USAID can strategically target assistance in this sector including long term approaches. They must have the ability to communicate clearly and effectively at all levels within USAID and the U.S. Mission in general, as well as with the host country ministries/ agencies, local governments, development partners, international organizations, non-governmental organizations, and the private sector. S/he must have the ability to develop and maintain mid-level to senior level contacts with the Government of Bangladesh and USG officials and private sector and NGO representatives in Bangladesh and in the region. The incumbent must have the ability to provide technical and policy guidance clearly and diplomatically to project managers and/or contractors as and when needed. They must also be able to analyze technical reports, produce summary documents, and write analytical reports on environment and natural resource management issues for strategic planning purposes. Intermediate computer skills (e.g., Word, Spreadsheet, LAN environment) are also required. Ability and experience with mentoring and guide junior staff is also desirable.
Language Proficiency: The incumbent must be proficient in spoken and written English at Level IV (fluent) and must likewise be fully fluent in spoken and written Bangla. The incumbent should be able to prepare correspondence and standardized reports, and to communicate effectively with English speaking staff. English language skill will be tested.
Gender:
Both
Age:
Any
Salary Range
182,491 - 320,954
Salary Details
FSN-10, 40 hours equivalent (TK. 2,189,897.00 - TK. 3,851,449.00 per annum). Final compensation will be negotiated within the listed market value based on the successful candidate`s salary history, work experience and educational background. Salaries over and above the top of the pay range will not be entertained or negotiated. Depending on qualifications and experience, Incumbent may be hired at a trainee grade lower than the position grade.
Other Benefits
PERIOD OF PERFORMANCE: Initial contract period is five years, with the option of renewal contingent on overall performance, continued need of the position and availability of funds.
PLACE OF PERFORMANCE: Dhaka, Bangladesh with possible travel as stated in the Statement of Work.
SECURITY LEVEL REQUIRED: The successful candidate shall be required to obtain a Facility Access clearance.
AREA OF CONSIDERATION: This is a Cooperating Country National position, any Bangladeshi National is eligible to apply.
VI. BENEFITS/ALLOWANCES
As a matter of policy, and as appropriate, a CCN PSC is normally authorized the following benefits and allowances:
BENEFITS
Provident Fund Contribution (10% of base salary)
Annual & Sick Leave
2 Festival Bonus
Medical reimbursement
Life insurance
Application deadline has been passed!
Company Information
US Embassy, Baridhara, Dhaka
The largest US agency in the US Embassy, Dhaka, Bangladesh.
www.usaid.gov/bd
Other jobs of this Category