Category
: NGO/Development
Application deadline has been passed!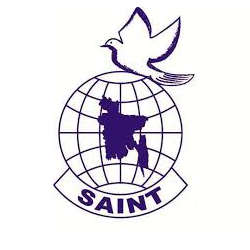 Project Coordinator
SAINT-Bangladesh
Job Summary
Experience
: At least 8 year(s)
Job Context
Shishuder Jonno` (For the children) Program is a sponsorship funded initiative of Save the Children in Bangladesh to support development of children particularly who are deprived from basic needs and services like health, education and living opportunities. Under this program, comprehensive activities as appropriate to children below 19 years are in implementation through following life-cycle approach. Country Office has been implementing diversified program core components, such as Maternal, Newborn, Child Health & Nutrition (MNCHN), Early Childhood Care & Development (ECCD) including Early Childhood Care and Stimulation (ECCSP), Basic Education (BE) including ICT in education, School Health & Nutrition (SHN) & Adolescent Development (AD). The non-core components are - Child Protection (CP) and Child Rights & Governance (CRG). The cross-cutting components are - Community Mobilization, Social Safety net, Gender and Inclusion.
This Integrated Child Development Program has been engaging children, their families and community actors in order to address the needs of the children and to create enabling development environment for them. Save the Children have been continuing sponsorship interventions in its Rural Impact Area (IA) of Bakergonj & Muladi Upazila in Barishal District to implement long-term, age appropriate, children development program for next 10 years.
Job Description / Responsibility
The Project Coordinator (PC) will have overall operational and management responsibility in achieving the goal and objectives of ICD-SJ project and will serve as its primary spokesperson. S/he will consult with the Executive Director/ Head of Organization and the Program Focal Persons of Save the Children for Management and Technical Assistance. The PC will manage the activities of all program/components and guide all the project staffs to execute their respective responsibilities. S/he will work closely with stakeholders across the working area for smooth operation and ownership building of project activities. S/he will have to build and keep collaboration & networking with relevant govt. department, local government officials and NGOs working for or interested in child development and child rights. The position will be responsible for exploring opportunities to create innovations in project implementation. S/he will be responsible for ensuring required Financial, Administrative and logistics support to implement the project activities smoothly and to achieve the goals and objectives of the project.
Educational Requirements
Master degree, preferably in social science or other relevant discipline.
Experience Requirements
At least 8 year(s)
Job Requirements
WORKING EXPERIENCE, KNOWLEDGE & SKILLS:
At least 08 years relevant working experience including minimum 04 years in management/supervisory/leadership position. S/he is expected to have sound knowledge on Bangladesh rural context and experience in working with multi sectoral program (Education, Health, Adolescent development, Population, Nutrition) including stakeholders at different level and experience in leading & managing field-level activities. S/he should have excellent skills in program planning, leading, coordinating, interpersonal communication, presentation, problem solving & decision making, time management, representing, monitoring, supervision, staff management, documentation & reporting, proficiency in English (oral & written) and advance knowledge on financial & administrative management. S/he should belong multi discipline team approach, non-discriminatory & gender sensitive, open, transparent, accountable and positive attitude.
Knowledge on PRA/PLA, Life skills, Early Childhood Development, Primary Education, Adolescent Development/Reproductive Health, Maternal & Newborn Child Health Care & Nutrition, Community Mobilization, Child Right & Child Protection, School Health and Nutrition program management and its inter-linkages with different development interventions will be an added advantage.
SPECIAL SKILL:
Hands-on computer (MS Office, PowerPoint) operating skills.
Motorcycle driving with valid driving license.
Gender:
Both
Age:
Any
Application deadline has been passed!
Other jobs of this Category